Facebook marketing
The last step on the welcome menu is to create a username for your Page. Your username will appear in your custom Facebook URL (also known as a vanity URL) to help people easily find and remember your Page. You'll have 50 characters to come up with a unique name not being used by another business.
Your step-by-step guide to setting up Facebook for business
Head to facebook.com/pages/create (Note: you'll need to be logged in to your personal account to get started, but don't worry: your personal info won't appear on your new Business Page.)
Choose your page type: Business/brand or Community/public figure
Enter your business details.
Upload your profile and cover photos. Make sure to use the optimum image sizes for Facebook so they look their best.
Click Edit Page Info: here, you can fill in your description, contact information and any other relevant details like operating hours.
Click Create Page @Username to make your vanity URL. This can be up to 50 characters long and helps people find you easily on Facebook.
Click Add a Button under your cover photo to set up a call to action like "Shop" or "Contact Us."
Pat yourself on the back: You just launched a Facebook Business Page into the world! And she's beautiful!
Facebook text post (a.k.a. status post)
They're direct and to the point, but if your goal is to drive traffic to your website or directly convert a lead to a sale, text posts aren't a great option. The social network's algorithm also isn't too fond of these bare-bones posts, and they usually don't get much reach in the news feed.
Facebook photo post
Generally speaking, photo posts see much higher engagement than text posts. An eye-catching photo (or illustration or infographic, we're not picky!) is a great way to catch the attention of a potential customer scrolling through their news feed.
Particularly for product-focused businesses, photos that show the goods in action can be really effective. Carb lovers, for instance, might be stopped in their tracks by these photos of The Soap Dispensary's bread baskets featuring yummy sourdough loaves. Breathtaking!
And don't worry if you aren't a professional photographer — or are selling something difficult to capture in an image: stock photos are here to save the day. (In fact, here are 25 free stock photo sites to check out! Just be sure you fully understand the basics of image copyright before you start posting.)
Facebook video post
Vox posts its explainer videos right into its feed so users can soak up all the intel right there on Facebook, and easily comment, react or repost to their feeds. This primer on vaccines, for instance, has 1,400 shares.
Facebook Live video post
Linked content post (aka link posts)
A link post is a post that shares a URL with your followers. Just paste a link into the composition box, and a preview of the website will automatically preview. (Is it technology or magic? We may never know.)
You could share a link to your website, but you could also share content from other sources — like an interesting think piece about your industry. Whatever the content, make sure to add a few words of your own to the post before you click Publish, to give your readers some context or a takeaway.
Facebook Stories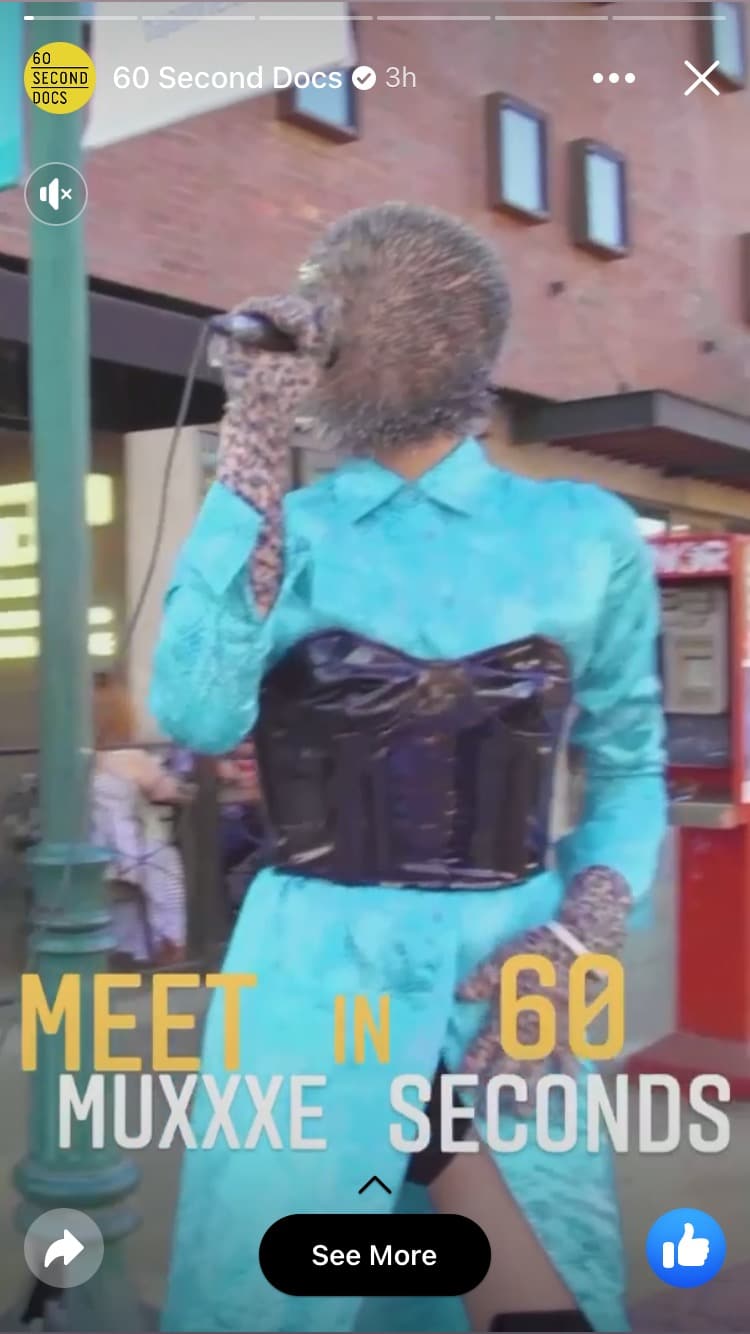 Pinned post
Once you've created the post itself — whether it's a text post, poll or video post — just click on the three dots on the right-hand corner. You'll have the option to "pin post." You can tell when a post is pinned because it'll say "Pinned post" right above it, like this Domestika example.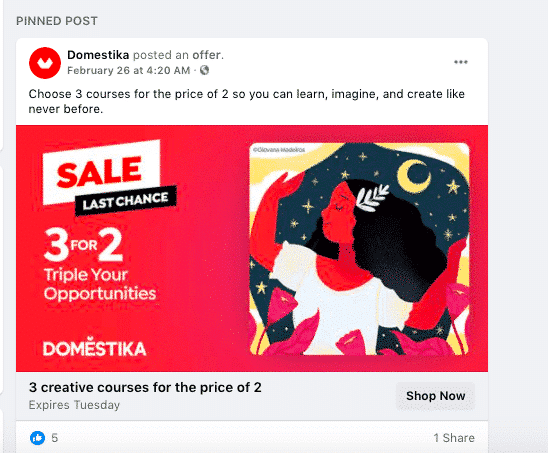 Facebook Watch Party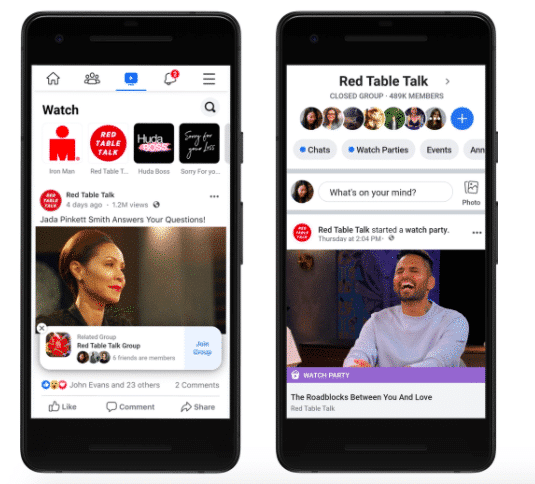 More hot options
You can also use Facebook Pages to post job listings and special offers if you're looking to recruit or build buzz about a sale. There's also the option to raise money for a charitable cause with a Facebook post.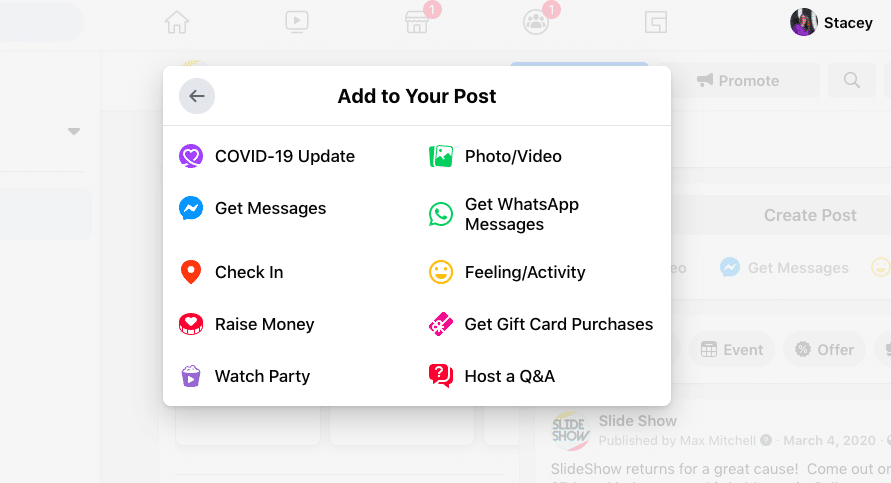 How to choose the perfect type of post
You can also engage in social listening to learn about what people love about your company… or what challenges they'd like you to address. Keep an eye on what people are saying about your competition too. Yes, it's eavesdropping, but it's for business purposes, so it's totally fine. Just listen and learn.
A good place to start is simply by posting content that's performing well on other channels. Have you tweeted content that's getting a great response? Share it on Facebook, too! Have a page on your blog that's always getting new comments? That's another Facebook post contender.
How to Set Up a Facebook Page
If you've decided to build a Facebook Page for your business, you've made the right choice. In fact, you'll be joining 70 million businesses worldwide who already market via Facebook Page — a number that's jumped by 1 million in the last few years.
1. Create a Facebook Page
Pages are Facebook's equivalent of a business profile. Pages look similar to profile pages but show specific information only applicable to businesses, organizations, and causes. Whereas you connect with a profile by adding them as a friend, you connect with a business Facebook Page by "liking" it and becoming a fan. If you create a personal profile for your business instead of a Page, you run the risk of getting it shut down by Facebook.
Facebook offers two categories so you can better customize the fields on your Page. For the purpose of this introduction, let's say we're a "Business or Brand." We'll create a Page for a (completely fictitious) company called Boston Coat Company and categorize it as a Retail Company. (To choose a category, simply start typing and choose from the drop-down list.)
If you haven't already, you'll be prompted to sign into Facebook at this point. You must create and manage Pages from your personal Facebook account; however, your personal information won't appear on the Page unless you add it.
Press "Get Started" and you'll be automatically redirected to add a Profile Photo and Cover Photo for your new Page. (You can skip these steps and do them later, but we recommend getting them out of the way now.)If you do skip, however, you'll see your new Facebook Page as well as a few tips for building the foundation of a business Page.
2. Add Photos
Add a Profile Picture
The first step to giving your Facebook Page an identity is adding a profile picture. This will serve as the primary visual for your Page, appearing in search results and alongside any of your content that shows up in a user's News Feed. Most publishers suggest creating a photo that's 180 x 180 pixels, however increasing this slightly will help maintain quality. If you don't upload an image that is already square, you'll be prompted to crop.
Think of your profile picture as your first impression, and be sure to choose something immediately recognizable (like a logo). If you're a speaker or public figure, go with a favorite headshot. Local restaurants or shops may choose an image of their most popular offering.
Add a Cover Photo
Next, Facebook will suggest you add a cover photo. A cover photo is the large, horizontal image that spans the top of your Page. It should express your Page's identity and can be updated often based on special offerings, campaigns, or seasons.
To upload a cover photo, click the "Add a Cover Photo" option in the welcome menu. The official dimensions of a cover photo are 851 x 315 pixels. However, if your photo is not exact, you'll have the option to drag to reposition the photo. Press "Save".
To change your cover photo in the future, hover your mouse over the white camera in the lower right corner of your cover photo and select "Change Cover." It's also a good idea to include a sentence of text and a link in the description if you are promoting a specific campaign in your imagery. That way, if your cover photo highlights a new parka, they can seamlessly jump to your winter product line to buy.
Finding the right balance between a cover photo that is both visual and simple can be a challenge. Try going with an abstract image or pattern to catch the eye, or a landscape shot with your product as the focal point. Often, the best cover photos are the ones that use negative space to their advantage.
Facebook Cover Photo Stock Images
3. Add a Short Description
Click "Add a Short Description" under "Welcome to Your New Page"to get started. Add one to two sentences (or 255 characters max) about your business. This description will appear both on your Page and in search results, so keep it descriptive but succinct. But don't be afraid to show a bit of your brand's personality!
Facebook and Email Marketing
We have a variety of marketing channels to choose from: social media marketing, search engine advertising, messenger, and email marketing, to name a few. It's great that you can combine these platforms to reach particular marketing goals with the accuracy that had never been available before.
What can Facebook add to email marketing?
With Lead ads, Facebook lets people opt-in to your email newsletters directly in a Facebook post. Aside from Lead ads, you can incorporate positive user feedback collected on Facebook into your email campaigns to empower the feeling of trust with social proof.
How can email marketing combine with Facebook?
Email marketing is a platform where the central communication unit is an email — the message that contains text, offers, and call-to-actions. It aims to drive sales and build long-lasting relationships with the audience. In the footer of each email, you can add social media buttons and suggest subscribers engage with your brand on Facebook. You can also create giveaway emails, providing bonuses for posting about your brand in socials.
Sources:
https://blog.hootsuite.com/facebook-marketing-tips/
https://www.hubspot.com/facebook-marketing
https://sendpulse.com/support/glossary/facebook-marketing
Facebook marketing
If your audience is on Facebook, then you should really try out Facebook marketing for your business. Try a variety of Facebook Ads and measure your progress regularly to ensure you're getting the most from your campaigns.

Facebook Marketing: A Comprehensive Guide for Beginners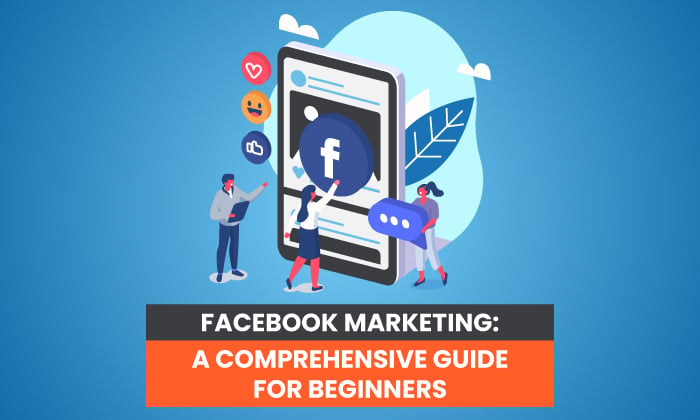 Image Ads
Video Ads
With video ads, you can showcase a product, promote customer testimonials, or boost your brand. Video posts, in general, have a 6.09 percent engagement rate on Facebook, which is impressive, but you'll lose viewers if it's a poor-quality video with an unclear message.
Carousel Ads
Collection Ads
Image collections are great for showing products in your e-commerce store, but as with image ads, you're limited to a short headline and a 125-character primary message, so they're not suited for conveying much information.
Facebook Advertising: Classic Ads
Facebook offers its own form of advertising with Facebook ads, which appear in the side columns of the Facebook site. These classic ads are referred to more specifically as Marketplace Ads. They include a headline with copy, an image, and a click-through link to either a Facebook page, a Facebook app, or an outside website.
Facebook doesn't release information about their ad CTRs, so it's difficult to know how successful Facebook ads really are. In our Facebook Ads vs Google Display Ads Infographic, we found that Facebook ads generally have a CTR of 0.051%, and an average CPC of
Hosting Facebook Contests
When conducting a Facebook contest, be aware that contests can't be hosted through Facebook itself (meaning you can't ask for likes as entries, have people write answers in the comments, etc.) Businesses must use a third-party app for creating their Facebook contest, then direct users to the app from their Facebook page.
There are plenty of paid tools to help you do this, as well as some free ones. Shortstack offers a number of free contest templates, so long as your page has under 2,000 likes. Pagemodo also has a free option. Many third-party Facebook contest apps offer free versions, but your options with them are limited.
.80; however, a business's Facebook advertising cost can vary a lot depending on the targeting options set and competition.
Using Facebook advertising to increase your "Likes" can be very beneficial – once a user likes your page, they essentially become followers of your business page, and your posts will appear on their Facebook news feed.
Facebook Messenger: How to connect and serve your customers
Social media marketing used to be businesses simply broadcasting their marketing messages at their followers all day. It worked well back in the days when few businesses were on social media and people were still very receptive to marketing messages.
Nowadays, customers message businesses to find out more information, ask questions about their purchases, and request customer support. A study by Facebook found that the majority of messaging app users surveyed had messaged a business in the past three months — Brazil (85 percent), India (74 percent), UK (61 percent), and US (61 percent).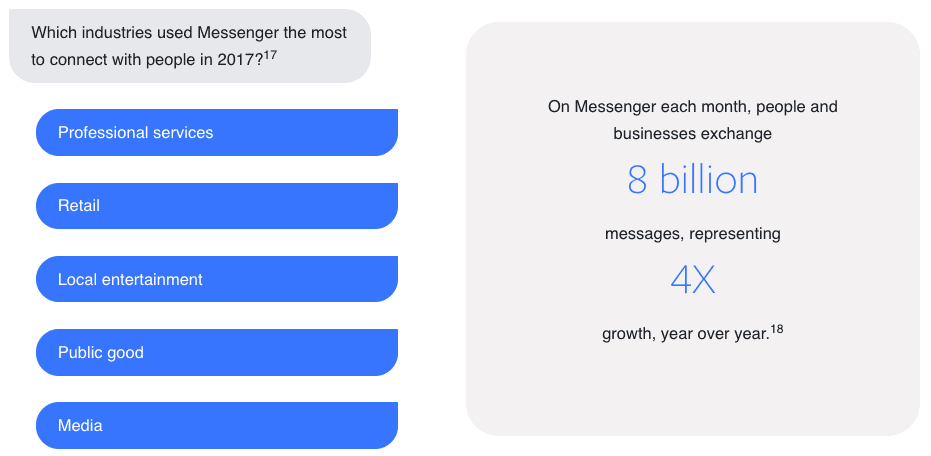 The easiest way to serve your customers through Messenger is to download the Messenger app (iOS and Android) or use http://messenger.com. With the app, you could receive and reply to your customers' messages, just like you would with your friend's messages.
If you manage multiple social media accounts besides your Facebook Page, we hope the best tool for you is Buffer Reply, our social media engagement and customer support tool. With a single tool, you respond to messages, mentions, and comments on Facebook, Instagram, and Twitter.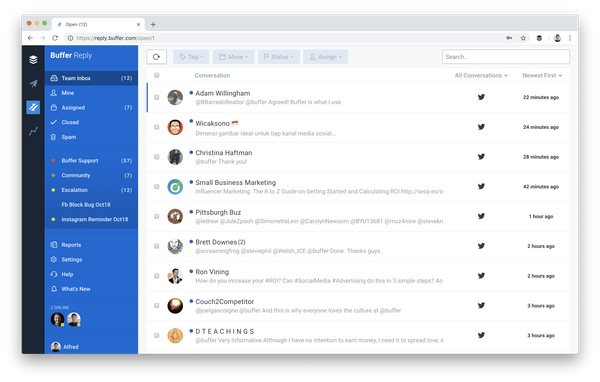 Sources:
https://neilpatel.com/blog/facebook-marketing/
https://www.wordstream.com/blog/ws/2013/04/15/facebook-marketing
https://buffer.com/library/facebook-marketing/
Facebook marketing
Video post: Video now accounts for almost 50 percent of time spent on Facebook, 85 percent of which are played without sound (which means subtitles are important!) [3]. Videos in Facebook posts can help a business tell its brand story, or a news publication deliver live updates. Live videos receive six times the interaction as traditional videos [3].
How to start marketing on Facebook
Create a Facebook business page. This is the business equivalent of a personal Facebook profile. Add your brand name, upload a profile and a cover photo, and optimize your bio before you work on building a Facebook audience.
Open a Facebook Shop. Selling products online? Sync inventory from your ecommerce website with a Facebook Shop. It'll give future followers the ability to purchase products without leaving the app.
Create a Facebook Ads Manager account. Even if you don't plan on advertising just yet, a Facebook Business Manager account grants access to bonus features for marketing your business, including the ability to boost well-performing posts.
Install the Facebook pixel. "The Facebook pixel comes in where you want to successfully measure, optimize, and grow audiences for your ad campaigns," says Liam Quirk, SEO and Ecommerce Strategy Director at Enofaber.
1. Understand your target audience
Be wary of who you attract. While a Facebook following of 10,000 people might seem like an achievement, it isn't so great if the people following your page have no interest in the products you sell. (This is one culprit behind a poor social media conversion rate.)
Before running with a new Facebook marketing strategy, have a solid understanding of your target market—the people most likely to purchase your products. List traits they have in common and use them as the foundation for the content you share through the platform. That includes:
2. Diversify your content formats
Callum Dooly, Managing Director at Elite Wine Refrigeration says, "People don't visit social media sites to read. They come for amusement, to catch up with friends, or simply to pass the time. They'll scroll over your large pieces of data.
"Go visual to avoid this and increase interaction on your posts. Graphical content should be used instead of text. Create infographics, short videos, memes, and other visual aids to peak your users' interest."
3. Post when your audience is active
If you're using Facebook to market your business, you need to post when your target audience is online. Posting at midnight increases the odds of your content being buried once your followers check Facebook in the morning. The Facebook algorithm prioritizes fresh content in a user's feed.
To find your optimal posting times, schedule content at different times throughout the week and monitor your Facebook Insights. Eventually, you'll begin to find windows of high engagement—and periods of time that send your content into a Facebook black hole.
4. Share influencer or user-generated content (UGC)
Marketing is all about influence. Whether you're persuading your Facebook followers to follow your page or to buy a product you're promoting, get a helping hand by partnering with influencers. Each generation is shown to be influenced by popular social media users—particularly millennials and Gen Z.
But it doesn't have to be mega-influencers with thousands of followers who contribute toward your Facebook page growth. Leo Livshetz, founder and CEO of UnHide, says, "One Facebook trend that isn't waning in popularity among ecommerce brands is sharing user-generated content across social media to establish social proof and boost sales.
"Your customers are probably already raving about your brand by sharing photos, videos, and reviews. You can use these pieces of content, with consent, to easily show your target audience that your customers love your products.
5. Encourage reviews
Did you know that 93% of people look for reviews before buying something online? Testimonials from happy customers, particularly those in a similar position to your target market, go a long way in turning Facebook into a revenue generator for your small business.
Find your Facebook reviews by going to facebook.com/username/reviews. Direct existing customers toward the link through purchase confirmation emails. Incentivize them to leave a review—and become a repeat customer—with a 10% discount code to redeem on their next purchase in exchange for a testimonial.
The Oodie, for example, has over 3,500 reviews on its Facebook page—the majority of which are positive. It goes a long way in proving to new followers debating whether to follow your page (or purchase your products) that it would be a good decision.
Know your Facebook audience
Like most social media channels, they're built as networks to converse, discuss and share content. As a brand, you can't forget that basic idea of what makes a social media network. That means conversation and engagement should never be put on the back burner.
Instead, try to be a community for your audience. Facebook is a great place to hold industry chats or discussions, whether it's with a different audience or your own customers. While Twitter often gets all the limelight of being a social customer care mecca, don't forget about Facebook too.
You can help drive Facebook engagement by asking people to simply engage in the first place. However, you can't sit back and wait for your followers to interact. You can't reach everyone, but there are ways to increase engagement.
Post at the Best Time on Facebook
Facebook is still one of the most difficult social networks to use for organic content. Again, algorithms make it a challenge for businesses trying to find optimal posting times. However, our guide on the best times to post on social media outlines the do's and don'ts of posting on Facebook:
Post at the perfect time with Sprout Social
Sprout's patented ViralPost® technology analyzes your audience data and detects the most active times for authentic engagement, enabling you to automatically schedule content at the best times for your brand.
And with Sprout's Calendar feature, you can maintain oversight of your publishing strategy over the long-term to ensure a consistent cadence. Then, using Sprout's Smart Inbox, you can monitor all connected social channels simultaneously to stay on top of comments, questions and other messages related to your content.
Our No. 1 used feature is the Smart Inbox. It's the way I start and end every day. I don't think I could ever express how incredibly useful it is. Through that, I'm tasking messages to other Sprout users, responding and engaging with content and our followers.
Build your brand with Facebook paid advertising
After creating an organic brand presence on social media, you can focus on the two types of paid advertising available on Facebook. The first type is a boosted post. This increases your visibility by boosting certain posts, so you can get the most out of your organic content, especially as Facebook changes its algorithm for how it shows posts in the news feed. The second is to create paid advertising campaigns using Facebook Ads Manager.
Boosting posts
A boosted post is organic content on your business page's timeline that you can add money to, in order to boost the likelihood of your target audience seeing it. This is a simple way to advertise on Facebook because it is boosting a regular post that otherwise would not have received as much traffic. It helps drive potential customers to your page.
Creating Facebook ads
Unlike boosted posts, Facebook ads are created in Ads Manager. With this tool, you can create, manage, and track ad campaigns on Facebook, Instagram, Messenger, or Audience Network. Ads Manager has many options for customizing your ads, which makes this an excellent option for conducting A/B testing to reach your marketing goals.
Image ads: These ads are static images in JPG or PNG format. You are allowed 40 characters for the headline and up to 125 characters for the main message, so you should use this precious ad space for calls to action (CTAs).
How to use Ads Manager
Best time to post on social media?
Based on posting analysis, the best time to post on Facebook is between 8 AM and 12 PM on Tuesdays and Thursdays, according to Hootsuite [5]. For Instagram, the best time is 11 AM on Wednesdays [5]. This might vary depending on your business's industry, location, and audience.
For ad placement, you can select from Messenger, Facebook, Audience, or Instagram. With Ads Manager, you can further customize by selecting options such as Facebook News Feed, Facebook Marketplace, or Instagram Explore.
How to track and monitor your Facebook ad
Additional tools for Facebook marketing
Facebook's three tools are robust enough to gather all the data you need to gauge your Facebook ad performance. However, you may want to take advantage of other tools that you can use to track analytics, organize your content calendar, and manage your posting schedule. Here are some helpful tools for Facebook marketing:
Marketing with Coursera
Whether you want to become an expert in social media marketing for your business, or kickstart a career in social media marketing, you can earn the Facebook Social Media Marketing professional certificate in just seven months. No degree or experience is required, so you can start your learning journey today.
If you're more interested in the data side of Facebook marketing, the Marketing Analytics professional certificate can help you launch a career as a marketing analyst or simply become an expert in driving traffic to your Facebook business page.
Маркетинговая аналитика в Meta
Marketing Strategy, Data Analysis, Marketing Mix Optimization, Statistics for Marketing, Advertising Effectiveness Evaluation, Marketing, Digital Marketing, Python Programming, Tableau Software, Data Visualization (DataViz), Statistical Analysis, Linear Regression, Statistical Hypothesis Testing, Marketing Mix Modeling, Marketing Plan, A/B Testing, Meta advertising, Social Media Marketing, Ads Manager, Marketing Science, Facebook Advertising
Related articles
Article sources
Материалы предоставлены в ознакомительных целях. Учащимся рекомендуется дополнительно убедиться в том, что интересующие их курсы и другие материалы соответствуют их личным, профессиональным и финансовым целям.
Sources:
https://www.shopify.com/blog/facebook-marketing
https://sproutsocial.com/insights/facebook-marketing-strategy/
https://www.coursera.org/articles/facebook-marketing